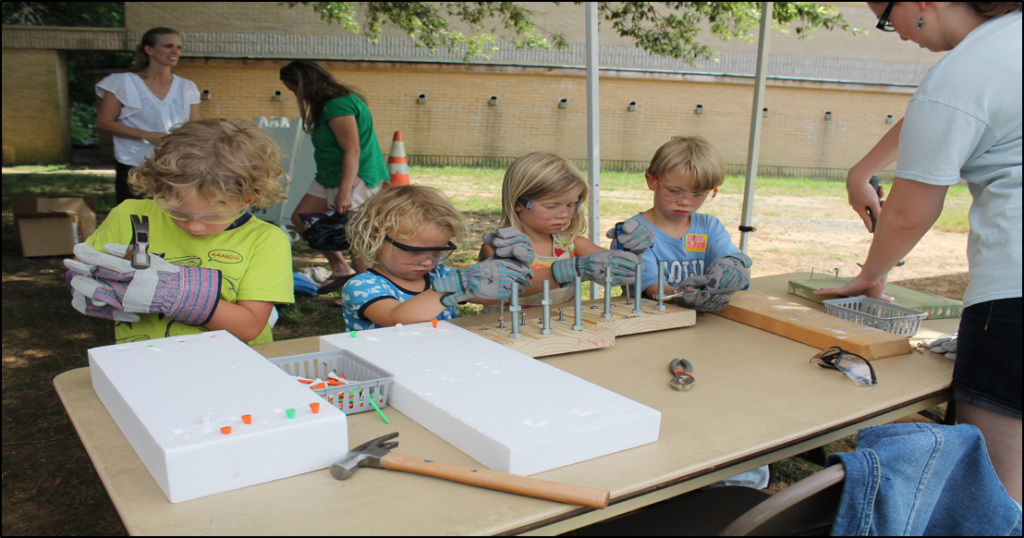 This post was written by Rose Cuomo. Rose Cuomo, Kidzu's Community Outreach and Special Programs Coordinator has been working in the museum field for over four years, holding a Master's Degree in Museum Education and a Bachelor's Degree in Art History. Cuomo has been with Kidzu for 2 years and has planned and facilitated over 250 programs with children and community partners during this time. In 2016, her outreach efforts reached over 4,000 families in the Chapel Hill/Carrboro area and grew the museum's partnerships with community artists, scientists, and makers by 35%. 
As the Community Outreach and Special Programs Coordinator at Kidzu Children's Museum in Chapel Hill, North Carolina, I am charged with making our educational programming accessible to all in our community. Important questions for us include: How does Kidzu make a difference and partner with our neighbors? How can I assist with making Kidzu a true "museum for all"? How can Kidzu's programming celebrate and reflect the needs of Chapel Hill's residents and build trust within communities? How can Kidzu best extend its reach beyond the museum walls?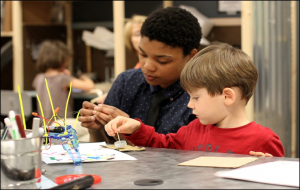 The need for quality out-of-school time enrichment programming provided by an institution such as Kidzu, is particularly great for the 13.4% of children who live in poverty in Orange County, where the affluent of Town of Chapel Hill is situated . Family income is an important determinant of access to quality education, with children from working poor families typically having the least access (Child Care Services Association (2005). North Carolina Early Childhood Systems Study.). North Carolina children from low income backgrounds fare worse than their economically advantaged peers in many regards. They tend to have poorer health, are less likely to be read to as young children, are less likely to take part in after-school activities, and are more likely to repeat a grade (North Carolina Child Advocacy Institute. (Dec. 2005) "Outcomes by Income: Low-income children fare worse on many indicators."). The quality of early education settings varies greatly (particularly in pre-schools and child care settings) for children living in low-income neighborhoods, and they often do not have equal access to high quality education. In North Carolina, working poor families and those with limited English proficiency are most likely to be receiving inadequate early education opportunities (Child Care Services Association (2005). Ibid).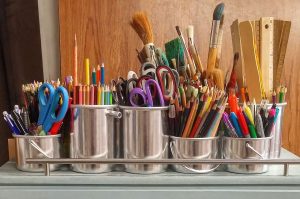 With these specific needs in mind, Kidzu challenged itself in 2016 to deepen its existing outreach programs, discover and reach neighborhoods in need, and invest in relationship-building with families living in these neighborhoods to help them access unique and valuable learning opportunities required of 21st-century learners.
Kidzu's Participation with APPLES Service Learning Students at UNC Chapel Hill: Outreach as Trust Building
In August 2016, In my capacity as the Outreach and Special Programs Coordinator at Kidzu Children's Museum, I was presented an opportunity to partner with two UNC students enrolled in the "COMM 53: Collective Leadership Models" course lead by Dr. Patricia Parker, Chair of the Department of Communication and Associate Professor of Organizational Communication Studies. Two undergraduate students, Myra Parker and Amber Scott were presented with Kidzu's 2016 outreach challenge, receiving an orientation of the current state of the outreach department and our goal for where we wish to take our efforts in the future.
The students have been trained in Ella Baker's grassroots organizing approach and a four-step framework for collective leadership, developed through the Kellogg Leadership for Community Change Initiative (KLCC): Building Trust, Co-Constructing Purpose and Strategic Plan, Acting Together, and Sustaining the Work. The students got to work right away working at community events such as Hargraves Family & Fun Day, Good Neighbor Block Party, and local Teddy Bear Clinics, to begin to gain an understanding of the specific needs of Chapel Hill and Orange County and how we could make a difference. The students, along with the knowledge they gained in Dr. Parker's course, discussed "building trust" as the main area of focus in growing our outreach program, with specific interest in reaching out to the 13 low income housing communities in Chapel Hill. Without a pre-existing level of trust, it is difficult to build a long lasting relationship with the community and it's leaders.
The students worked with me to arrange a meeting with the Housing Department of Chapel Hill in November, with Dr. Parker and Kidzu staff in attendance. It was decided that the S. Estes Community (less than .4 miles from the museum's location) would be a great place to begin building trust with families in low income housing and opening the door to communication, learn from the expertise and knowledge in the community, and explore opportunities for partnering through programming with Kidzu. In keeping with Ella Baker's approach to connecting with local leadership, we decided to meet with established community groups such as the South Estes "Community Parent Support Group" and parents whose children attended the after school programs. We wanted to learn from them about issues related to access to quality education, meeting them not only in their own space but also on their own terms.
December 5th, 2016, the students and I met with "Parent Support Group" at S. Estes Community Connect Center.  We shared the mission of Kidzu and our concern that not all children were getting the benefits of our programming. We were transparent with them that we had been trying to increase participation from residents and parents in their neighborhood, but without much success. Kidzu staff and UNC students, Myra and Amber, listened to the concerns and needs of this group and learned, among other things, that there was interest in enrichment activities during teacher workdays, and school holidays. Together we developed the beginnings of a plan for Kidzu and the South Estes parent group to create a partnership that could lead to making educational programming available to the children in their community and beyond. In terms of content,  STEM programming and 21st-century skill building were of great interest, something Kidzu offers inside its museum walls on a daily basis and has a well-developed program curriculum readily available.
Inclusiveness is at the heart of everything Kidzu stands for, and the journey that we have taken with Dr. Parker's COMM 53 class has been monumental in creating strategies for deepening our outreach efforts. The work we have done helped to develop a model for building trust in our own neighboring communities, and understanding the steps to take to improve our accessibility to all. This model consists of:
1. Identifying Community Leaders;
2. Meeting Community Leaders in their own space and on their own terms;
3. Identifying the community's unique needs and expertise to con-construct a purpose and plan;
4. Partnering at a space that continues to build trust through test driven programs.
The two UNC students worked over 35 hours between September to December 2016, to develop this model and prototype it at S. Estes Community Connect Center. Kidzu is committed to providing its unique, academically enriching programming to more youth and adults living in underserved communities in 2017 and 2018.
The success of this partnership has led to the development of Kidzu's "Community Connections" program, that we hope will unite multiple community partners to support what the Harvard Family Research Project refers to as "Complementary Learning." As communicated, "Complementary learning refers to the idea that school and life success requires an array of learning supports. These learning supports include families, early childhood programs, schools…health and social service agencies…museums, and other community-based institutions. To be most effective, these supports should complement one another, moving out of the silos and working together to create an integrated, accessible set of community-wide resources that support learning and development." (Weiss, H.B. Complementary Learning. The Evaluation Exchange. Vol XI, No. 1. Spring, 2005. Harvard Family Research Project.)
To achieve this goal Kidzu's "Community Connections" program will follow a two-pronged approach:
Outreach: Provide specialty STEM based programs supplementing existing pre-school, after school and summer programs working in underserved communities.
Access: Provide opportunities for family engagement through special programs at the museum, free access to the museum and out-of-school time program scholarships. These programs will target families from partner agencies engaged in our outreach programming.
The partnership that was developed between Dr. Parker and her class has been an amazing experience for myself and for Kidzu as a whole. Considering outreach as a trust building process with community members and leaders, allows long lasting partnerships to build and for a true "museum for all" to form.