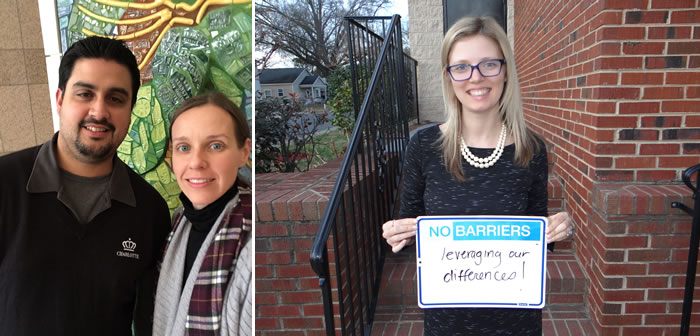 It's a great thing when community engagement is a primary focus of many organizations. However, the challenge for some may be changing the engagement status quo into what it can be in the future. With the abundance of tools available and the desire to do more engagement, there is an opportunity for creativity and innovation. So, how does this all come together to build something that can impact not only a community but those in public service as well?
For local government, employees at all levels across an entire organization can play a key role in developing new ways to engage the public.  Four city of Charlotte employees were recently selected as finalists in the Knight Cities Challenge, a national call for new ideas that would make communities a better place to live and work.  Two of the employee ideas focused on engaging the community in a very unique way.
The employees are pictured above:  Charlotte-Mecklenburg Storm Water Services,  Alyssa Dodd – in the left photo, with Carlos Alzate; and Sarah Hazel (holding the "No Barriers" sign).
Alyssa's idea is centered around city employees taking 10 minutes once a week to have a conversation with a member of the community to discuss how we can make our city a better place to live, work and play. Just think, if every employee did this, we could collectively engage more than 364,000 people a year in one-on-one conversations. These conversations could lead to new relationships being formed with the community and have a lasting impact on the employees who participate. The city could gain new perspectives and fresh ideas from residents. In turn, residents could feel a stronger connection to the city and its employees.