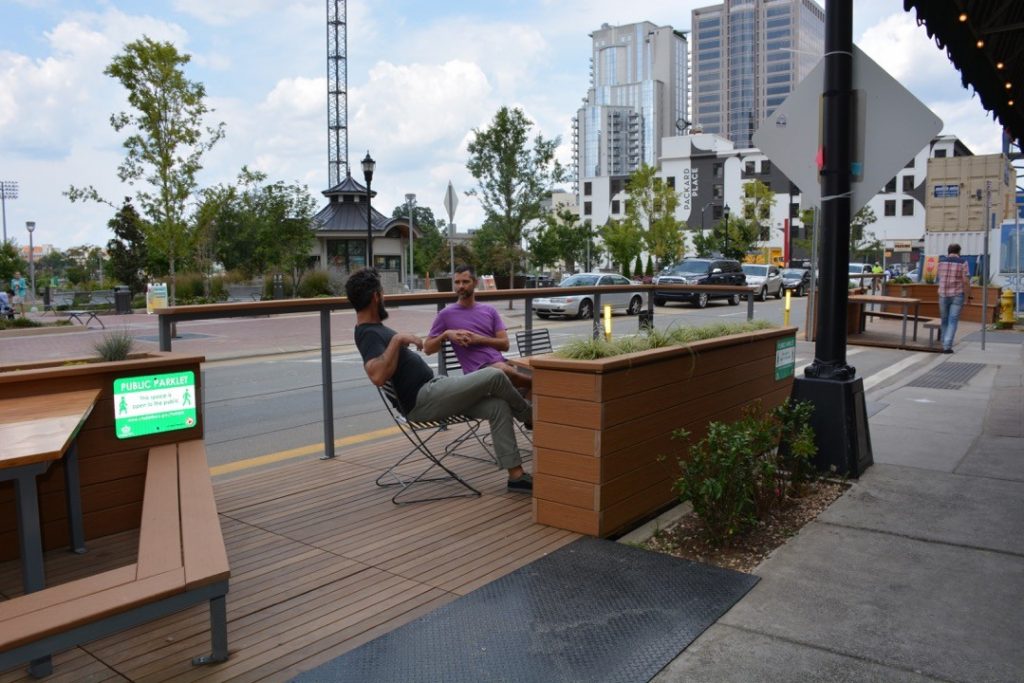 In a day where social media rules and comments are limited to 140 characters, the actual art of conversation seems to be fading. That's why the unique idea to create parklets was quite intriguing. I'm sure you are wondering… what exactly is a parklet? Well, in a nutshell a parklet is a small public park. Part of a growing trend across the county, parklets are an extension of the sidewalk over an on-street parking space and are usually no more than two parking spaces long.
Parklets also contain green space and offer a place for the community to stop, sit and yes have conversations. Communities have become more focused on reclaiming space for public interaction and parklets are one way to accomplish that goal.
The new parklets installed in Uptown Charlotte were created in response to requests from residents to see improvements in walkability and placemaking throughout the city. The Charlotte Department of Transportation (CDOT) developed a Pilot Parklet Program where they explored whether a permanent program would be a good fit for Charlotte. Through this program, residents will have the opportunity to design, fund and build their own parklets, under the guidance of CDOT's Right-of-Way Management Section.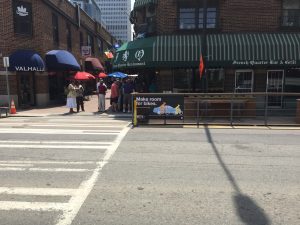 The current Charlotte parklets are located adjacent to one of our newest parks, Romare Bearden. The area surrounding the parklets is filled with local restaurants, business offices, breathtaking views of Uptown and is only a few steps away from the Charlotte Knights Baseball stadium. The location is a signature pedestrian corridor and connects Romare Bearden Park to historic Brevard Court/Latta Arcade. The Charlotte parklets are proving to be a great way to get people engaged in conversation while serving as an avenue to make our streets and neighborhoods more inviting.
So what do our residents have to say about the new parklets? Well, the response has been very enthusiastic. CDOT has received numerous emails and comments from people enjoying Uptown's newest space. "The Brevard Court parklets are more than a placemaking project," says Scott Curry, CDOT's Pedestrian Program Manager. "Parklets can help neighborhoods and businesses shape the streets' character."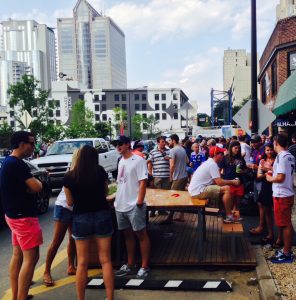 As the city of Charlotte continues to explore ways to engage the community through collaboration, more ideas such as this are sure to be on the horizon.
The pilot parklets were funded and constructed by Mecklenburg County Parks & Recreation using high quality materials according to the standards of Charlotte's Pilot Parklet Program.  Students from the UNCC School of Arts + Architecture and staff from Charlotte Center City Partners were also involved in this unique collaboration. The city of Charlotte will evaluate the pilot program over the next year and decide whether to transition into a permanent program in 2016.