Glad to introduce Rachel Kelly, Public Information Officer for the City of Burlington
It can take years for a new resident to feel like they are part of a community. The City of Burlington wanted to welcome new residents and make sure that they could immediately feel connected to their new community. To help new residents connect with their new community and ultimately become informed and engaged citizens, the City created Belong In Burlington, a new resident program that launched in January 2017.
I am glad to describe our initiative and hope to inspire other city governments and civic partners for outreach to their new residents. We have wonderful photos and videos of our gatherings.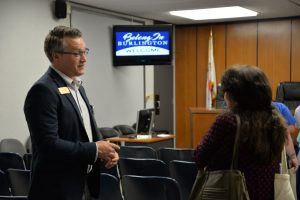 When guests arrive at the front door of the Municipal Building, they are greeted by a member of their City Council who will help them get signed in, give them a name tag, swag bag, and a challenge card. These Belong in Burlington branded materials help guests to navigate the event as well as to challenge them to implement some of the things they learned after they leave the event. Being greeted and registered by your City Council members, makes you feel special from the moment you walk in.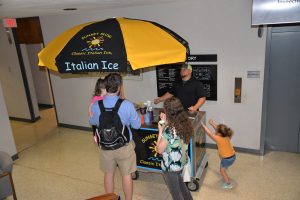 Throughout the Municipal Building's lobby, conference room and Council Chamber, guests will visit eight different themed kiosks. The kiosks are attended by city staff, non-profit staff, and community volunteers who are there to answer questions, educate, and most importantly, create meaningful connections.
The Kiosks
Keep Learning: New city, new experience: there is no better time to learn something new and there are so many options to explore. This kiosk is attended by staff from the library system, community college and Maker's Guild.
Kids Activity Center: Children experience interactive play supervised by Burlington Recreation & Parks Youth Programming professionals while their families experience the Belong In Burlington program.
Make a Difference: There is no better way to become rooted in your city than to invest in your community. Find your niche and unearth the best way to make Burlington better. This kiosk is staffed by the United Way of Alamance County, Burlington Animal Services, the Arts Council and the Board of Elections.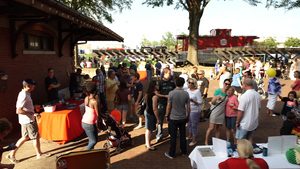 Do Something Fun: Find the fun in your new community! There are countless opportunities to make wonderful memories right here in Burlington. This kiosk is staffed by Burlington Recreation & Parks, and the Downtown Corporation.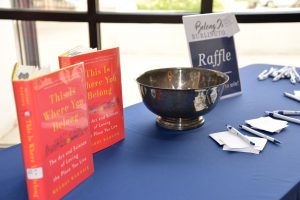 Be Well: Safety and healthfulness is a community effort. Learn how to take steps to protect your family, stay healthy, and be well in Burlington. This kiosk is staffed by the Health Department, Healthy Alamance, Police Department, Fire Department, and the local hospital.
Explore Your City: Discover ways to explore Burlington. Whether by foot, bike, bus, or plane, get to know the history, art and natural elements that make Burlington unique. This kiosk is staffed by Link Transit, Burlington-Alamance Regional Airport, and the Historic Preservation Commission.
Beyond Belonging: Don't just belong, lead! Take the next step and learn how to be a leader in your community. The City Manager, Economic Development Director and community volunteers educate residents about the City's fire and police academies and well as volunteer Boards and Commissions.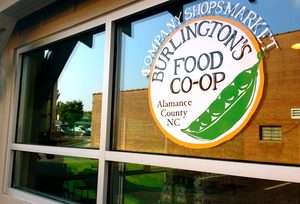 Shop Local: Discover Burlington's local flavor and meet a local merchant. Every dollar spent in a local business compounds to create a better future for the entire community. It really pays to shop local. Each event is sponsored by a local vendor who provides free refreshments to event attendees.
The physical space is designed so that the kiosk staff is not behind a rectangle table, but instead stationed at high-top cocktail tables. Flyers and literature don't litter the tables. The event is designed to foster conversation and connection first. Tables invite guests to sit and mingle near the "shop local" refreshments to encourage new residents to take time to meet one another.
Residents don't leave empty handed. On their way out, they can pick up a branded glass coffee mug and sign up for an "exclusive new resident event" designed to help new residents experience what the community has to offer and to make connections with other new residents.
This year, we offered a guided hike, a meet-the-band experience at a concert, a free ticket to a Burlington Royals baseball game, and free admission to a history night at the Paramount Theater. They are also challenged to do an exercise on their Challenge Card:
explore the city at less than 2 mph
commit to buying one type of item locally
begin making fun memories
get involved and give back
keep learning
So much thought went into making meaningful choices for Belong In Burlington. From the welcoming jazz music to Council members working the registration tables, to providing childcare and exclusive follow-up events, everything was designed to help residents feel more connected to Burlington. This program is new and it is important to the City to be responsive to the feedback of both participants and staff. After each Belong In Burlington session, we send a feedback survey to the participants and the event staff to see how we are doing.
So far, the event has been a success with 143 new residents attending a session. Of the participants who responded to the survey, 96.4% feel more connected to the community and said that they learned something new as a result of Belong in Burlington. Every respondent of the participant survey said that they would recommend the program to a friend who is new to town! 100% of staff participants responded that their time at the event on behalf of their organization was valuable and that they had meaningful interactions with residents at Belong in Burlington. More impactful than the survey results has been the energy in the room and the smiles on faces at Belong in Burlington events.
The City's vision is grand but it is clear: Belong in Burlington will become something everyone recommends to the new residents they meet and new residents who attend will become engaged citizens and lifelong lovers of Burlington.  This initiative was set in motion by a  directive from city council and the city manager. I was fortunate to join with Public Information Specialist Morgan Lasater and Outdoor Program Coordinator Melissa Hoose to design and implement Belong In Burlington.