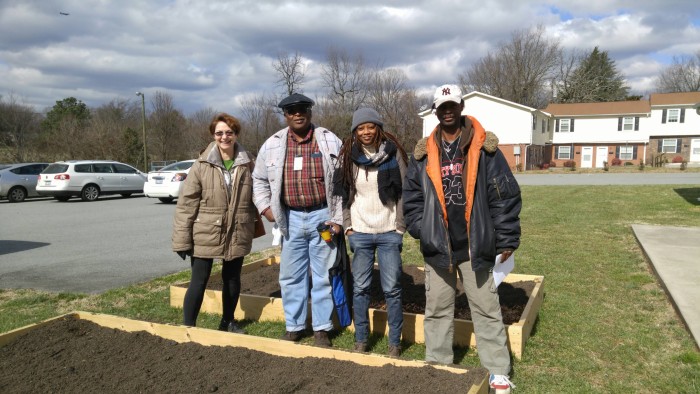 I have the tremendous pleasure of working with the Cottage Grove Neighborhood Association and Community-Centered Health Partners as they revitalize the community, engaging outside resources to support that vision rather than to dislocate neighborhood residents.  Meet some of the amazing leaders whose energy is guiding that process to transform the neighborhood.
Photo above, left to right: Laura Tew (Cooperative Extension Master Gardener), Rev. Marvin Richmond (New Hope Community Development Group), Shorlette Ammons-Stephens (NC A&T, Center for Environmental Farming Systems), and Barry Campbell (New Hope Community Development Group).
From Decline to Rebirth
Imagine reclaiming your community's identity after decades of being defined by others. The Cottage Grove neighborhood in southeast Greensboro bustled with shops and professionals in the 1950's and 60's; in 1976 the main street was renamed South English and became a cut-through from East Market to Lee Street. Business closings, little investment, and many broken promises later, neighbors formed the Cottage Grove Neighborhood Association and adopted the theme "Cottage Grove for LIFE!" to proclaim the new energy for a healthy place to live. Now they are holding outside groups—and themselves—accountable to make that happen, together.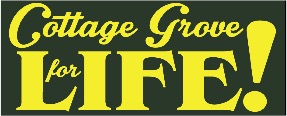 English and GED classes Tuesday and Thursday evening
Greensboro Housing Coalition's help advocating to rental property owners about housing-related health risks and discrimination
Renovation of disastrously substandard apartments, through the efforts of Cottage Grove Initiative
Hampton Circle of Friends organizing strong support for Hampton Elementary School's amazing staff
Wonderful relationships with Cone Health, UNCG, NC A&T, and Cooperative Extension
A Community-Centered Health grant from BCBSNC Foundation for hiring a coordinator and Community Health Workers—jobs for the neighborhood.
The momentum is building.
Cottage Grove Neighborhood Association reaches out to neighbors to let everyone know that this time, instead of broken promises, positive changes are underway.
But this is not a magic wand that others wave to make everything perfect. This is the opportunity to transform the community from the inside, based on the goals and the efforts of neighbors—although supported by the time, expertise, and funds offered by partners.
This is the opportunity to learn leadership skills: how to get neighbors to raise their voices effectively and to dig into the work (literally, in the case of community gardens), how to make the most of the contributions of eager college students and church groups while clearly defining the community's own identity, how to stand up for their own vision in the tension between the egos of others.
The neighborhood association is planning leadership development trainings and health outreach fairs, to attract more neighbors to see that they really can create the future that they envision.
Introducing some of the Cottage Grove community leaders:
Verna Torain (on left, below) bought a home in Cottage Grove 25 years ago and for many years made phone calls seeking attention to the needs of her community. When she heard of meetings about reclaiming Cottage Grove, she showed up—every time. After listening quietly in the back of the room, she agreed to be president of the newly formed neighborhood association—and became the spokesperson, traveling to conferences to tell about the vision of Cottage Grove for LIFE!
Pat Macfoy (on right, red shirt) began visiting door-to-door in the Cottage Grove neighborhood when she was a child, accompanying her father, pastor of New Hope Missionary Baptist Church, as he reached out in service to the community. After a career as Senior VP of Human Resources, Insurance and Risk Management officer at Girl Scouts, she continues that legacy as Executive Director of New Hope Community Development Group.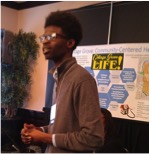 Yusuf Olokoba graduated from high school at 16 and will be studying engineering and science at Dartmouth College—full scholarship. In the meantime, he is volunteering at Hampton Elementary to introduce young students to robotics and inspiring them to dream of exciting careers.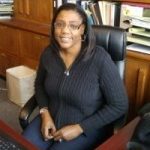 Josie Alston Williams grew up in the community and knows firsthand the challenges families face. She is pouring all her experience in life, in Guilford College, and in internships at Greensboro Housing Coalition and Washington DC into her new work as coordinator of the Community-Centered Health partnership, building capacity for shared leadership.
Next steps for Cottage Grove? Reaching out to more neighbors, learning advocacy skills, visiting other communities who have stood up for themselves around community development and environmental hazards. After all, the park in Cottage Grove was once a landfill and neighbors want to know the results of environmental tests.
Share with us your experiences for healthy communities!